Surface Pattern Designer and Maker
Welcome to our surface pattern design business where designing is not just our passion, it's our obsession! Let's dive into a world of imaginative wonder together! Our team creates enchanting, playful patterns that will bring a smile to any child or adult's face. From clothing to home decor, we infuse every item with a touch of magic.
But we don't just stop at creating patterns – we bring them to life! Our sewing projects are designed to showcase the whimsy and charm of our unique designs.  we're not keeping our creative journey to ourselves – we're inviting you to come along for the ride!
Follow us on our social media channels – from our captivating Youtube channel to our colourful Instagram and Facebook pages. Sign up for our Newsletter to stay up-to-date on all our latest adventures. Together, let's bring a little bit of joy and fun to the world!"
EXPLORE OUR SURFACE PATTERN DESIGN PORTFOLIO AND ADD A TOUCH OF PLAYFUL CHARM TO YOUR NEXT PROJECT.
We are dedicated to creating unique and beautiful patterns that can transform any product or outfit. We pride ourselves on our attention to detail and our ability to bring our clients' visions to life.
We are thrilled to present one of our latest designs, the lovely 'Princess Hearts' pattern, which was created by our artistic designer Benita. This pattern has been printed on delicate chiffon and crafted into a stunning dress using the McCall's M6097 pattern. The result is a truly beautiful piece that is sure to attract attention wherever it is worn.
In fact, we recently had the pleasure of seeing our daughter Tara wear this dress at an Alice in Wonderland event held in Brisbane Southbank to celebrate her birthday. Tara looked positively gorgeous in the 'Princess Hearts' dress, which perfectly captured the whimsical magic of the event.
Whether you are looking for a custom design for a special occasion, or want to add some unique flair to your product line, we are here to help. We specialize in creating patterns for a variety of applications, including fashion, home decor, and accessories.
Thank you for considering our surface pattern design business. We look forward to working with you to create something truly special.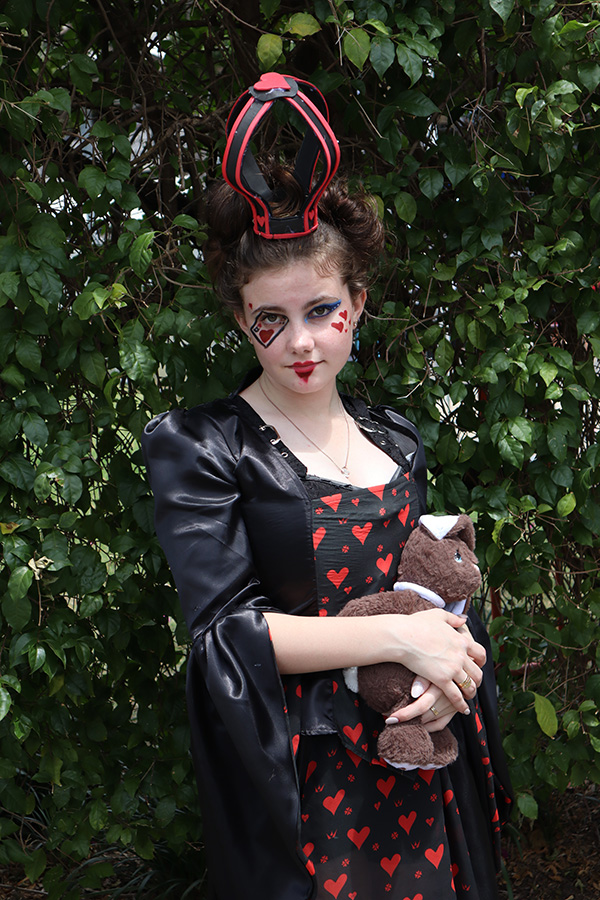 LOOKING FOR A FUN AND CREATIVE OUTLET? TRY OUR IN PERSON CROCHET CLASS. YOU WILL LOVE JOINING IN WITH THE OTHER CROCHET ENTHUSIASTS WHILE YOU LEARN A NEW SKILL, MAKE A UNIQUE RUG MUG AND RELAX IN THE WELCOMING ATMOSPHERE. 
ABOUT THE DESIGNER
Discover the inspiration behind Benita's beautiful surface pattern designs by exploring her unique upbringing on a research farm in the heart of Sydney.Growing up, Benita's father worked for the Department of Agriculture, sparking countless conversations about the joy of animals and gardening. She also learned the art of sewing from her mother and grandmother, who taught her about creating clothing you love.
To learn more about Benita's story and how it has influenced her unique designs, step into her office.